Creative Play
Creative Play have been installing play areas for more than 25 years and we have built a huge amount of experience in delivering exciting,innovative outdoor learning environments and sport & recreational facilities.
We understand how important your outdoor playground is to the local community. It should be a fun-filled and safe environment for all ages to play and interact with each other. Using a variety of high quality, low maintenance equipment perfect for local parks and play areas, there is something to suit every budget and outdoor space.
---
The Brief
Whitchurch Town Council contacted Creative Play as they were looking to renovate one of their existing outdoor spaces; Jubilee Park Play Area. The council wanted to extend their existing play area and create a 'dream destination' that would challenge children's physical, motor and social skills. Overall, the council wanted a durable and quality playground that would provide the best value for money.
---
The Design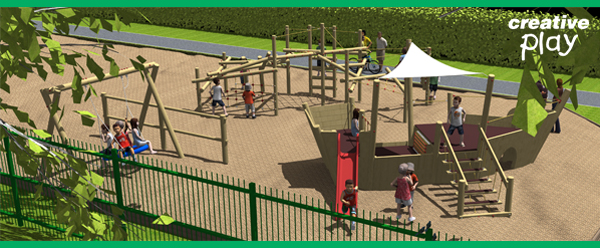 For Whitchurch Town Council we were asked to provide 3 different designs to showcase what the council could achieve with the space and budget available. The selected winning design consisted of three key play pieces. Firstly, our Jungle Climber Combi would provide physical challenges for the children to conquer and encourage the development of gross motor skills.
Secondly, our impressive Pirate Ship Midi Timber worked well with Whitchurch Town Council's request to incorporate a boat theme in reference to the park's old Canal site heritage. This also allows the children to use their imaginations and get into character, encouraging them to play and socialise together.
A Basket Swing, with swing barriers, was also added along with bark surfacing to ensure there was plenty of play opportunities for children to enjoy.
---
The Installation

The installation of Whitchurch Town Council's Jubilee Park went very smoothly and we worked closely with the council to ensure no issues were to arise. The play area now provides the community with a great resource that children will continue to enjoy for many years to come.
Overall, it was a great project to have been a part of and the feedback has been great which is the most
important thing!