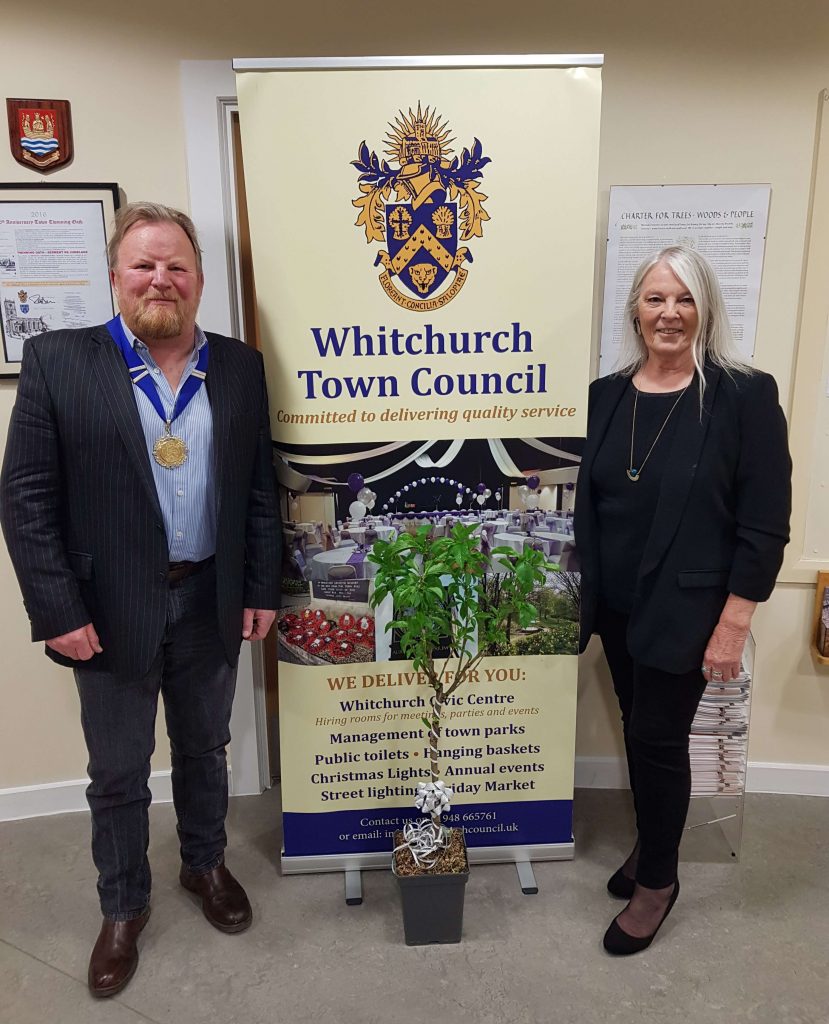 Whitchurch Town Councillors and staff presented the retiring Mayor, Cllr Beverly Duffy, with a cherry tree as a gift of thanks on 14th April to mark the end of her term of office. Cllr Duffy has held the position of Mayor and Chair of the Council since May 2019 and will retire later this month, after a period of two years. Pictured Cllr Simon Hamlyn Deputy Mayor of Whitchurch and Cllr Bev Duffy. Cllr Simon Hamlyn was elected as the Deputy Mayor of Whitchurch after the former Deputy Mayor, Cllr Terry O'Neill sadly passed away in June 2020 during the pandemic. A bench in memory of Cllr O'Neill will be unveiled in Jubilee Park in the coming weeks.
Cllr Bev Duffy thanked Cllr Simon Hamlyn for his much appreciated work and help as Deputy Mayor, her fellow councillors for their support during her term of office and also thanked the staff at the Civic Centre for their dedication through the pandemic. "I would like to take this opportunity to especially thank Zoë Dean, Acting Town Clerk, and Gillian Bailey, Locum Support Officer, for all of their hard work through what has been a very difficult time."
The Mayor has supported Whitchurch Girl Guiding & Whitchurch Scouts with a £500 donation towards hand washing facilities and a new disabled toilet in the Church Hall, as well as providing monetary donations for general Scouting & Guiding activities, and donations to Headway Shropshire, and Whitchurch Food Bank.
Cllr Duffy added: "I am pleased to see that Whitchurch Town Centre has now re-opened as England continues to ease its National Lockdown. Whitchurch Friday Market has also resumed indoors and it's great that the Civic Centre is open to the public again. I would like to wish all of the local pubs and restaurants well for reopening indoors from 17th May – it's been a long time coming."
Once a new Town Council has been elected, the Council will appoint a new Mayor at its annual Council meeting on Thursday 20th May from 7.15pm, this will be the Council's first face to face meeting in 15 months. The Annual Town meeting, which is a meeting for the electorate of Whitchurch, will take place earlier on the same evening from 6pm in the Main Hall. Social distancing rules will apply and the meetings will be limited to a maximum of thirty people, in line with the government's Coronavirus restrictions. The Council's Annual Review will then be published and made available for collection at the Civic Centre, as well as online.