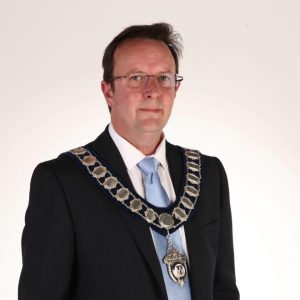 I could choose to bore you by rattling off a list of events I have attended throughout the year, but I don't want to do that … you'll be pleased to hear!
The word council comes from the Latin "consillium" meaning "come together" – and that is how this council have worked throughout the year, together …
'Together' also typifies the approach you see time and time again throughout our town – I think we all recognise Whitchurch for its strength of community spirit and resilience – something I have witnessed first-hand over the past two years … From small charity collections to large scale events, from the annual Food & Drink Festival to recognising our War Dead on Remembrance Sunday …
So, instead of talking about mayoral achievements, I would like to recognise those individuals and groups who selflessly give up their time to make these events happen.
As dawn breaks on a Saturday in Summer, or as night falls on a wet, dark Thursday in Winter, somebody, somewhere is serving this town for the good of others. I mention a Thursday in particular because that is when our council generally meets …
They say that the whole is the sum of its parts and no truer can apply to this council – individuals who give up their time, for no reward but the pleasure of contributing to the success of the town – ensuring we have a future to face, though so often they go unduly criticised …
Individuals who have contributed to a review of our governance structures to ensure that we are 'fit for the future' … individuals who have contributed to astute financial management to endeavour we retain a healthy financial position without the need to increase our precept … individuals who constantly strive to create innovative solutions to the many challenges we face (economic or otherwise) …
We are very fortunate to have such a dedicated council and I thank each and every one for their efforts over the year. The majority will go forward to create a new council for the forthcoming civic year, post-election, but in particular I want to thank those who step down at this point for their contribution to the town. Equally I would like to spare a thought for those who are no longer with us, especially Lester Stones – who sadly passed away during the year.
Of course, none of this success would be possible without a talented staff team – who have faced their own challenges during the year – I especially want to thank ZOE DEAN, who has given extraordinary service over and above the 'day job' as we recruited our new Town Clerk …
I would also like to acknowledge our County Council colleagues for their efforts throughout the year … In short, everyone who has contributed to the vibrancy I have described.
We may be the oldest Market Town in Shropshire, but I also truly believe we remain the region's most dynamic … and together, with that spirit, we will endure in the face of challenges to come.
Two short years ago, I had the honour of attending the first Worldwide Whitchurch Weekend in Hampshire … this year we have the pleasure of celebrating our town in the second such weekend … and celebrate we should, because we have got a lot to be thankful for …
So, from the bottom of my heart, I thank both my council colleagues and the people of Whitchurch for affording me the honour of serving as its mayor …
I will remember the time with great pride – and hope my successor is equally fortunate.
You can view this years annual report using the link below

[bsk-pdf-manager-pdf id="181″ target="_blank"]