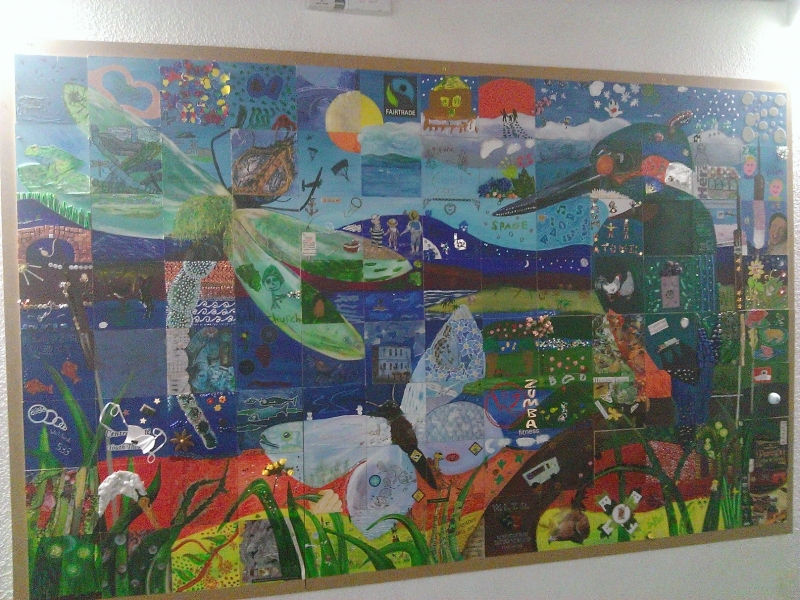 Whitchurch Big Picture is back in town.  Following a successful art project during the summer of 2013 the Big Picture has been on display in Shropshire Wildlife Trust HQ, Shrewsbury.
Big Reds House coordinated the art project, which celebrates the Meres & Mosses Landscape and the town of Whitchurch is at the heart of the area.  The Whitchurch Big Picture reconnects people with the surrounding countryside and landscape of Whitchurch and raises awareness of the global significance and cultural heritage of the Meres & Mosses through art.  The aim of the art project was to get the community involved in the "Big(ger) Picture" of the surrounding area.
The projected was coordinated by Big Reds House, who worked with local artist Sarah Evans.  Sarah designed the 'big picture' and painted the background, this picture was then cut up to produce tiles which had background colours on.  Shropshire Councillor Peggy Mullock, who was Mayor of Whitchurch at the time, said "it was great to visit Big Reds House and be able to design my own tile, using the background colours that the artist had done.  To now see the Big Picture back in the town for everyone to enjoy is great."
Once people had designed their individual tile using the background colours, the artwork was then reassembled to create the Whitchurch Big Picture.  The community designed their tiles from June to September in 2013 and, whilst at Big Reds creating their own unique piece of art, they could read all about the Meres & Mosses Landscape Partnership project and see the history and beauty of this wonderful area, which in turn provided inspiration for the eclectic designs of the tiles.
Whitchurch Mayor, Mike McDonald is "pleased that Whitchurch can offer a place to display this fantastic piece of community art.  The Town Council wants to make the walk way through to the market hall a 'Gallery' of artwork produced by the people of Whitchurch.  This Big Picture is a community artistic celebration of the surrounding Meres & Mosses landscape area."
To view Whitchurch Big Picture just visit the community gallery adjacent to the market hall at the rear of the Civic Centre, Whitchurch.