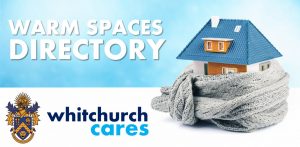 Are you struggling this Winter – or know someone who is?
Our WHITCHURCH WARM SPACES Support Information is available to download here
Printed copies are also available from the Civic Centre Reception Hub and throughout town.
UPDATE: Since going to print, BROWNLOW COMMUNITY CENTRE have advised us that from TUESDAY 3RD JANUARY they will be opening as a "Warm Space" every Tuesday, from 10am-2pm, with free tea, coffee and biscuits and other refreshments for a small charge.