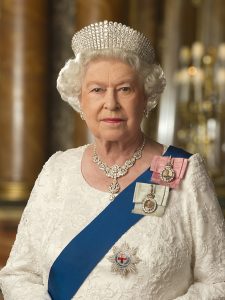 Her Majesty, Queen Elizabeth II
21st April 1926 – 8th September 2022
The Councillors, Proper Officer and Staff of Whitchurch Town Council are deeply saddened at the news of the death of Her Majesty, Queen Elizabeth II, who died peacefully this afternoon at Balmoral. Our sincere condolences go to HRH Prince Charles and members of the Royal Family.
There will be books of condolence from tomorrow at both the Civic Centre and St. Alkmund's Church, with online books of condolence available at www.royal.uk
The Civic Centre is open from 9AM on weekdays and 10AM-1PM on Saturdays. Please check directly with St Alkmund's for their extended opening hours.
Floral tributes may be laid in front of St Alkmund's Church, around the flagpole.
Please kindly remove any wrapping or packaging as flowers will be collected to be composted, and the compost used to plant a tree in our community in memory of Her Majesty.
On Sunday 11th September, special prayers will also be said at St. Alkmund's with a Civic Service of Remembrance and Thanksgiving planned for Sunday 18th September at 10AM.
We will issue more news as appropriate